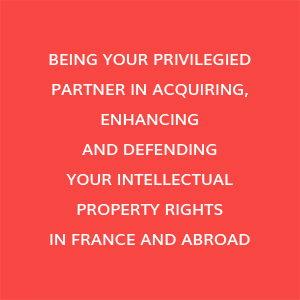 → Checking the avaibility of marks and the novelty of design.
→ Contacting owners of prior rights (negotiating coexistence agreements, acquiring prior rights…)
→ Filing Trademark and Design applications.
→ Dealing with examination procedures by Official authorities.
→ Monitoring renewal and maintenance deadlines for Intellectual Property rights.
→ Registering of Domain Names.
→ Renewing Trademarks, extension of Designs and Domain Names.
→ Recording modifications of rights on National, International and European Registries (Trademarks, Designs, Patents) and on authorized Registrars for Domain Names.
→ Monitoring trademarks, company names, domain names and designs.
→ Filing, monitoring and dealing with administrative enforcement proceedings.
→ Pre-litigation intervention and defence (trademarks, designs, domain names, unfair competition…)
→ Judicial actions in infringement and unfair competition together with a specialized lawyer who may appear before the Courts.
→ Negotiating and drafting contracts related to your Intellectual property rights (assignments, licences, coexistence agreements, transactions…)
→ Auditing portfolios of rights with respect to valuation, sale or acquisition of assets projects, alone or in cooperation with law Firms and Chartered accountants in charge of the deal.
→ Advising on all questions related to Trademark, Design, Appellation of Origin laws as well as Copyrights, Domain Names and Unfair Competition.
→ Developing awareness and providing knowledge to your teams in the field of Intellectual Property, Domain Names and Unfair Competition.